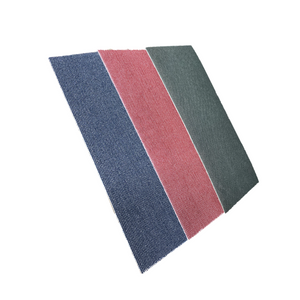 80 x 230mm PRONET AbrasiveNet Strips - Designed for the Mirka Handy Strip Machine (40 Grit - 320 Grit)
$1000

$10.00
Tax included.
---
---
Product Information
Width: 80mm
Length: 230mm
Grit Sizes: P40, P80, P120, P180, P240, P320
Number of Holes: Thousands of holes (Mesh Design)
Face Attachment: Hook and Loop
Pack Qty: 10 Strips & 50 Strips

What is PRONET?                                                 
PRONET is an aluminium oxide abrasive net in disc and sheet form. 
PRONET enables the dust-free dry sanding of numerous surfaces producing a surface finish for the application of various surface coatings.
PRONET has proven to give a longer life than conventional abrasives.                            
Applications
Hard and soft wood, veneers, chipboard, MDF and Strand board  
Ferrous and non-ferrous metals
Paint and lacquer sanding
Plastics
Body Filler and primer



Please note that these are PRONET AbrasiveNet Strips designed for the Mirka Handy machine and are not Genuine Mirka Sanding Sheets. They are a very high quality product and will work on your machine.

Liquid error (sections/product-template line 207): Could not find asset snippets/cm-handpick-matching.liquid
---
We Also Recommend
---
Liquid error (sections/product-template line 761): Could not find asset snippets/cm-handpick-matching.liquid