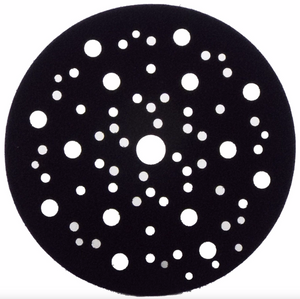 Non-genuine Mirka 8295600111 Interface Pad 150mm x 3mm - 67 Holes
An interface pad to fit perfectly for your Mirka hook and loop backing pad. Made with an extremely strong hook and loop system and with a 3mm thickness, this is the perfect addition to get extra life out of your backing pad without added or reduced hardness to your backing pad.
Please note that this is a PRONET Product designed with the same hole configuration as pictured for your Mirka machine and is not a genuine Mirka product. Please see your warranty for any queries on using this product. 
Buy with confidence from a company that cares. 
Product Information
Diameter: 150mm (6 inches)
Thickness: 3mm
Attachment: Velcro (Hook and Loop)
Number of Holes: 67
Liquid error (sections/product-template line 207): Could not find asset snippets/cm-handpick-matching.liquid
---
We Also Recommend
---
Liquid error (sections/product-template line 761): Could not find asset snippets/cm-handpick-matching.liquid