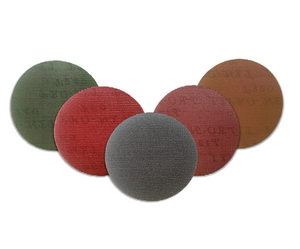 225mm (9 Inch) PRONET AbrasiveNet Sanding Discs
225mm / 9 Inch PRONET AbrasiveNet hook and loop discs to fit on a dry wall sanding machine or an orbital sander that takes a 225mm diameter disc. These discs are designed with performance and extraction in mind, with a full face mesh design and an open weave backing paired with a high quality long-lasting Aluminium Oxide grain, our PRONET AbrasiveNet discs are the perfect upgrade to your sanding experience. 

Product Information
Size: 225mm
Grit Sizes: P40, P60, P80, P120, P150 & P180
Number of Holes: Thousands of holes (Mesh Design)
Face Attachment: Hook and Loop
Number of Discs: Packs of 5 & 10 Discs
What is PRONET?                                                 
PRONET is an aluminium oxide abrasive net in disc and sheet form 

PRONET enables the dust-free dry sanding of numerous surfaces producing a surface finish for the application of various surface coatings

PRONET has proven to give a longer life than conventional abrasives                     

Applications
Hard and soft wood, veneers, chipboard, MDF and Strand board  

Ferrous and non-ferrous metals

Paint and lacquer sanding

Plastics

Body Filler and primer

Liquid error (sections/product-template line 207): Could not find asset snippets/cm-handpick-matching.liquid
---
We Also Recommend
---
Liquid error (sections/product-template line 761): Could not find asset snippets/cm-handpick-matching.liquid